STOP - STop Obesity Platform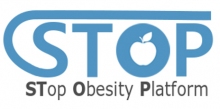 The STOP project brings together an interdisciplinary group of experts from industry and sciences to address the societal health challenge of obesity. The aim will be to reduce the enormous and growing health costs of obesity and related health problems (such as heart disease, diabetes, arthritis, liver disease, gallstones, cancer, dementia) that burden European citizens.
This will be realized by an innovative platform that combines various data from people with obesity based on sensor streams, chatbots with existing knowledge databases, merging them by using machine-learned data approaches for sophisticated AI data analysis.
The aim is to make this collected and analyzed data and knowledge accessible and usable for healthcare professionals. The gamification approach will also play a role, for example, to teach people with disabilities how to eat healthier. Finally, an app will be developed to teach healthier eating in analogy to the Dorian Gray mirror. To effectively address the societal challenges of obesity, STOP consortium members will share their skills and knowledge from interdisciplinary (health, food and informatics sciences, nutrition, dietetics, healthcare communication) and cross-sectoral (health informatics, applied gamification, data and knowledge management) fields to build a platform for networked health data management, decision support and coaching that supports obese individuals and healthcare professionals.
The FTK is the lead partner in the project which involves the following other partners: Cork Institute of Technology, Ulster University, University Napoli, INCONTEC, GLOBIT, OKKAM Srl. FTK is also responsible for the areas of Big Data applications, information and feature extraction, semantic data fusion and data and knowledge ecosystem.